We help bring your custom joinery designs to life
Whether it's a large-scale commercial development or a multi-level residential property, our efficient cut to size and custom joinery service delivers what you need, when you need it.
Tailor-made cabinetry
 Our quality-assured process is set-up to manufacture your custom joinery designs to your exact specifications.
We help you refine your ideas
To ensure functionality as well as 'good looks', we can create samples and prototypes for you to test final design-concepts before your custom joinery products are produced and installed onsite.
An experienced workshop team
Our expert team of skilled tradespeople employ care and accuracy when processing your bulk custom joinery order. 
Growing long-term relationships
We're not just about 'making a quick buck'. Our reputation is based on a collaborative approach with our clients and our industry partners. 
We're well-equipped for your next commercial custom joinery project
Our state-of-the-art 4500 m2 manufacturing facility at HPP's Gold Coast headquarters is well-equipped to handle most commercial and residential joinery projects end-to-end.
Equipped with the latest production machinery and cutting-edge, custom-made joinery software, we're proud to be industry leaders in the field.
Our experienced and capable manufacturing team include qualified cabinetmakers and builders, project managers.
The HPP team have experience delivering custom joinery for a variety of residential and commercial applications, including corporate workspaces, offices, medical, retail and educational interior environments.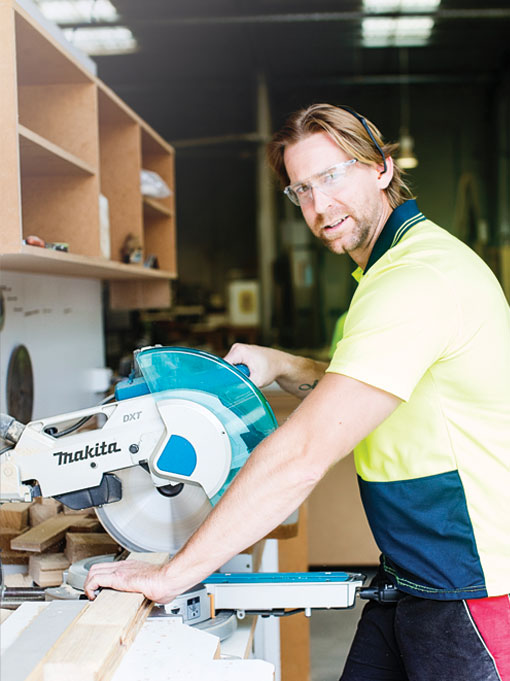 Delivering your bulk cut to size orders – as promised
When you've got a big project and need cut to size joinery on a larger scale, the HPP custom joinery team are ready to go.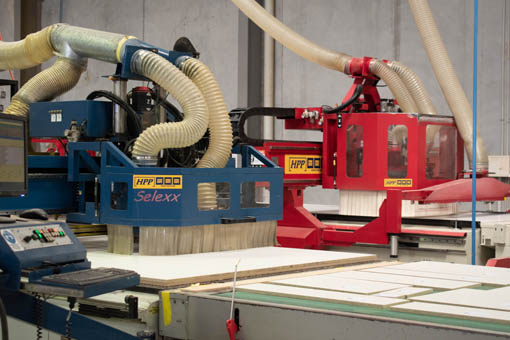 Having the right equipment and operators means you can count on 100% accuracy on your custom joinery projects. 
We're well set-up for a more flexible, cost-effective manufacturing process. Our in-house assembly service saves time and helps you to coordinate the various tradespeople onsite.  
We're continuously review our quality assurance processes to make sure you job is cut, drilled, routed and assembled as ordered.
We support an end-to-end collaborative approach, starting with your design concept right through to the final fit-out.  Regular on-site client meetings help us better visualise your project. On-site meetings help build stronger relationships and ensure that we deliver quality project outcomes.
DESIGN, SUPPLY AND INSTALLATION
Working with our clients through the whole process helps us deliver all of the design elements exactly as specified. Using the latest technology and custom-made software, we're able to precisely cut and install the most complex and intricate designs.
BUILDING REFURBISHMENTS AND FIT OUTS
For more than 20 years, HPP Group has established a reliable reputation for tailoring commercial and residential building refurbishments and fit-outs that support our client's professional image across multiple industry sectors.
COMMERCIAL AND INDUSTRIAL FACILITIES
At HPP, our dedicated commercial joinery division focuses on custom solutions for commercial and industrial environments. Our breadth of industry experience, exceptional customer service and our use of the latest technology, equips us to accurately manufacture and deliver high quality custom joinery for our clients.
COMMERCIAL CUSTOM JOINERY
Well-made custom joinery can significantly influence the overall appearance and functionality of any space. From the elaborate through to the functional, HPP has extensive experience in commercial custom joinery solutions for all manner of corporate workspaces including office, medical, retail and educational interior environments. 
OFFICE WORKSTATIONS AND FURNITURE
We create beautiful office workspaces and furniture that support the wellbeing and performance of the people who use them. Our range of products and services include ergonomic office layouts, integrated workstation systems, and the manufacture and installation of custom-made furniture and bespoke joinery.
HPP's wall and ceiling panel systems have been installed successfully in thousands of projects. We offer one of the most extensive and diverse ranges of low-maintenance, pre-finished architectural wall and ceiling lining systems in Australia.
ACOUSTIC PANELLING AND TILES
HPP's perforated panels and tiles offer excellent noise-reduction capabilities, aesthetic enhancement and a decorative appearance. Choose from a range of style options to suit your project requirements.
HPP offers a range of high-quality aesthetic and architectural design solutions in the latest styles. We focus on the styles and features that complement your fit-out, achieving an overall coordination that we're well-placed to deliver.
HPP Group's diverse portfolio comprise of corporate, medical, hospitality, academic, civic and mixed-used projects located throughout Australia. With a highly experienced team of project managers and technical advisors, HPP works closely with clients to deliver quality Australian-made products.
Find out how HPP's custom joinery service can help take the headaches out of your next project. Call 1300 692 224 or send us a message and we can talk to you about what you need.