No matter how unique, innovative or customised you want your project, our team can help.
Servicing Australia wide!
Let's face it. There are only so many hours in a day, only limited 'hands on deck'.
To grow their businesses, many successful tradespeople and business owners are looking to outsource at least part of their cabinetmaking business.
That's where HPP's cut to size service comes in.
With our state-of-the-art technology and custom software, our team of experts will meet all your cut to size requirements.
We cut, drill, edge and route every cut to size order with precision and accuracy, in any shape or size you desire.
We have the facilities to transport your order safely in protective crates or individually wrapped, supplying both commercial and residential customers throughout Australia.
We work with you to select and cut materials that bring your unique designs to life.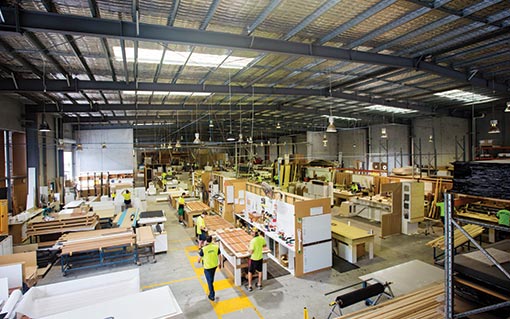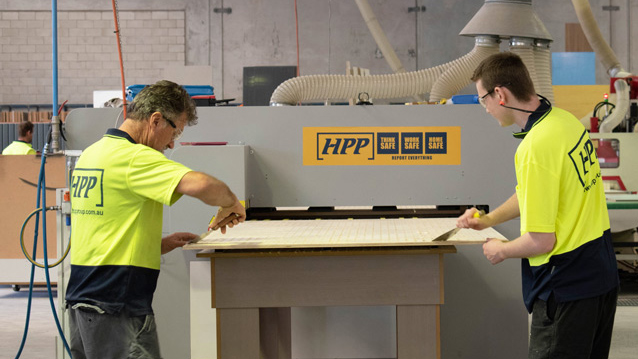 How HPP's cut to size cabinetry service helps Australian cabinetmakers
HPP Group is Australia's leading professional cut to size cabinet manufacturer and supplier. We use state-of-the-art technology to ensure that your custom-designed cabinets are cut, drilled and edged exactly as ordered, every time.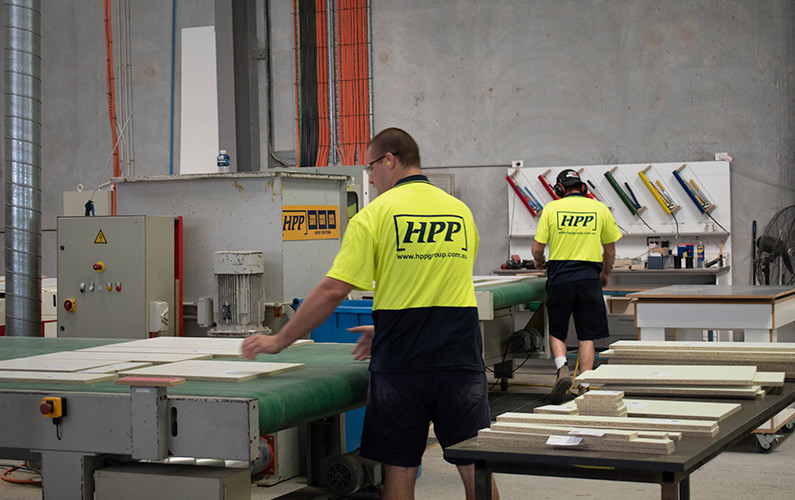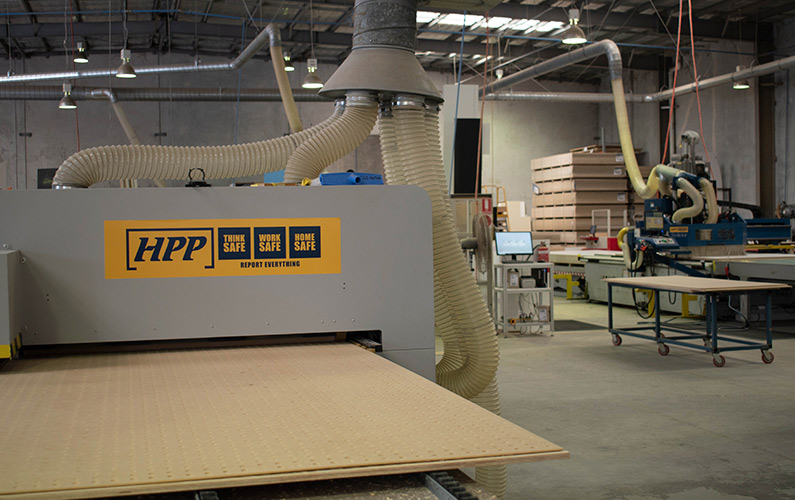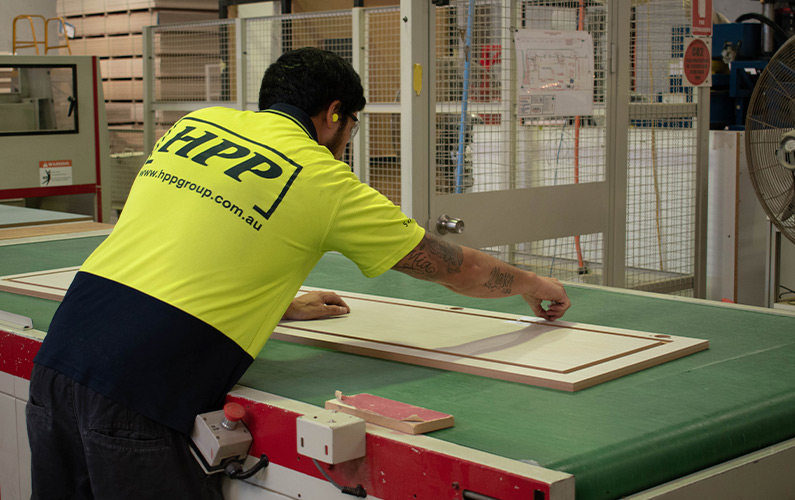 We make custom cabinetry a breeze!
Our cut to size accuracy means that the size and quality of your cabinetry projects are 100% consistent for all types of materials.
When you're juggling multiple jobs and competing deadlines, outsourcing takes the pressure off. It means that you don't have expensive machinery tied-up on more 'standardised' jobs. It means you don't have to take on extra staff hours to get jobs finished.
It frees you up to get on with the more profitable, custom-made jobs.
Our innovative factory located on the Gold Coast is equipped with everything we need to handle commercial and residential projects of every size. No matter how big or how small your project, we get the job done right.
Our cutting-edge factory technology allows us to manufacture completely customised cabinets supplied to you either flat-packed or pre-assembled.
While kitchen and bathroom cabinets are our most popular cabinets cut to size orders, we also produce cut to size boards for panelling, storage, wardrobes, doors and more.
The best part?
There's no need to wait weeks for your custom order. No matter what type of project or scope, we'll have your order ready within 7 working days. So, you can deliver your project to your customers as promised.
(For custom finishes including edged fingerpulls allow an extra 24hrs)
Our Cabinet Assembly Service will make delivering your projects on-time even easier!
We know that for every small to medium sized cabinetmaking business, time-is-money. At HPP, we work hard to come up with ways of taking the hassle out of your business, so you can create a business you love working in.
One way to speed up the delivery of your projects is by using our assembly service.
HPP's step-by-step assembly service ensures your order is handled with skill and care and is delivered where and when you need it.
Simply place your order on Cabinet Pro then pick-up your finished project, fully assembled, from our Gold Coast factory.
Allow 10 working day turnaround on all assembly orders.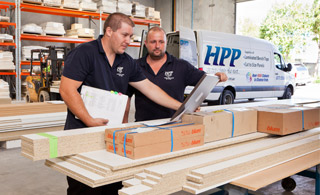 By using our assembly service you'll have more time to talk to customers and grow your business.
Let HPP do the work for you.
Prices available in Cabinet Pro.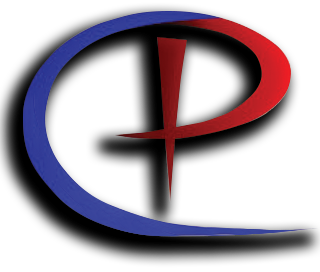 Cut out the hassle and speed-up your Quoting & Ordering process
Our Cabinet Pro software was a breakthrough when we first introduced it several years ago. Cabinetmakers around Australia now rely on its easy-to-use, accurate quoting and ordering facility.
Cabinet Pro eliminates the need for cut lists and sends you an instant quote.
Choose from our wide range of materials
Keep your customers happy with a choice of the latest styles and quality materials to suit every budget. We offer a huge range of materials which can be cut, edged and drilled to your exact specifications.
You tell us exactly what you're looking to achieve and we'll make it happen.
Need help with design inspiration? Our experienced team will help guide you through the process and help you choose the perfect designs, colours and options.
No matter what brand, finish, or colour you choose, we have the right materials to get the job done. Our wide choice of finishes and colours include the latest from: Laminex, Polytec, Formica, StyleLite Colors and more!
We also source the latest hardware and joinery components from the world's leading suppliers: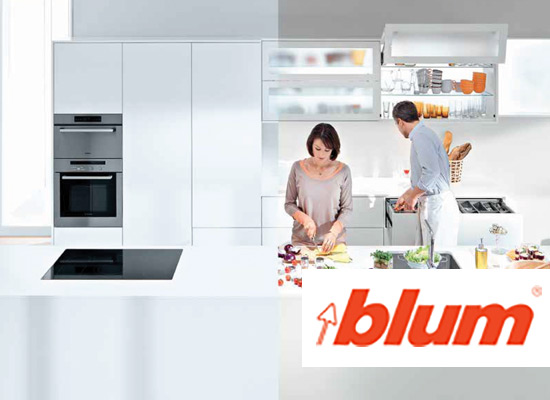 BLUM
Fitting Solutions by BLUM
European-designed hinge, box runner and lift systems for kitchens.
All with Blum's renowned easy-motion open and close mechanisms. Plus, their practical, space-saving cabinetry for corners, towers, under-sink spaces and towers.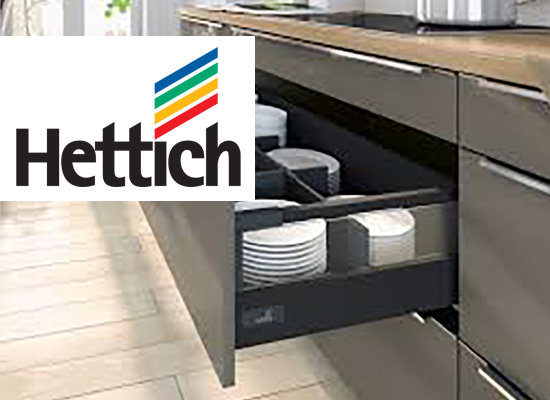 Hettich
Good furniture needs good solutions
Hettich produces hinges, drawer systems, drawer runners, sliding and folding door systems that combine great technology, functionality and design.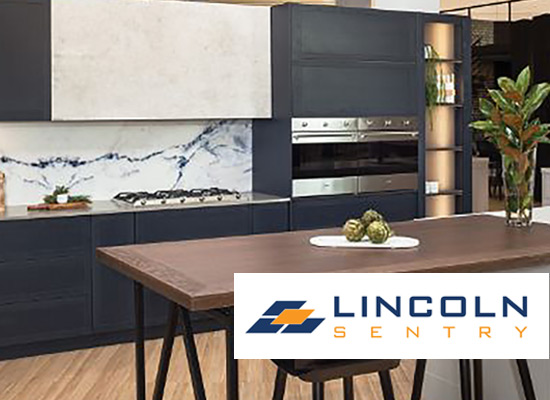 Lincoln Sentry
Helping you create with confidence
A innovative designer of cabinet accessories such as waste management systems, cutlery and spice drawers, extension and pull-out tables and ironing boards, non-slip drawer liners, handles, sinks and tapware.
Why Choose Cut to Size Panels
The answer is simple: you get completely customised designs that are cut to fit the exact dimensions of your project.
No need to try to make ill-fitting cabinetry work when you can custom design the exact panels for your space.
Our team of experienced professionals work with you to create the perfect design using the latest finishes and hardware fittings.
When it comes to updating the look, feel, and usefulness of your space, there is no easier way than with custom-cut cabinets from the team at HPP.
Give us a call today and let us help you get started on your next home or office improvement project.